EVENT Details
Hover over each tab for more details
Pricing
PRICING
Category

# of Races

Before Jan 1st

Before May 1st

After May 1st

Sport Division

Mixed/Women's/Open/ACP/BCP/Paradragons
(2 x 200m, 2 x 500m)

4

$1,095

$1,195

$1,395

Sport Division (out-of-state)

Mixed/Women's/Open/ACP/BCP/Paradragons
(2 x 200m, 2 x 500m)

4

$1,095

$1,295

Community Division

Mixed/Women's/Open
(3 x 500m)


3

$995

$1,095

$1,295

Community Division (out-of-state)

Mixed/Women's/Open
(3 x 500m)

3

$995

$1,195

Sport Division Combination Team*

(2 x 200m, 2 x 500m)

4

$645

$795

Practice Session

$100
Prices are in USD.
Payment Methods: We accept Visa, MasterCard, or Check.
Paying by check: You will receive a discount of $25 USD. This discount will be automatically applied during the registration process.
*Team must consist of all paddlers participating on a primary team. To get this rate, please call the GWN office: 416-962-8899.
For more information (i.e. refund policy, multi-event discount, etc), please visit our FAQ page.

To ensure races run smoothly, smaller divisions may be combined in heats but will race independently of each other.
Community Division vs Sport Division
A community team is considered to be a team that competes in less than 3 festivals in a season. Contact GWN if your team should be granted an exception.
Registration Add-Ons
Each team registered at the festival will get a 20 x 20 team site (footprint, not tent rental) within the Athletes' Village. Teams have the option to bring their own tent or rent one from GWN. In addition to tents, chairs and tables are also available. For more information, please refer to the Athletes' Village tab below. Teams may also order additional practices, please see the Practice tab below for more information.
Location
LOCATION
Location: Busse Woods (Ned Brown Preserve) is located in Schaumburg and Elk Grove. The event will be staged on the South Pool. Free parking and access to the race site is gained by turning south off E/ Higgins Rd, just east of Highway 290.
Site Map: 2023 map will be posted 1 week before the event.

Park Rules: We're committed to creating a safe, comfortable, and enjoyable experience for participants and spectators. Before heading out to the races, there are some things you should know:
No BBQs are allowed on site.
Teams are responsible for picking up their waste within their team sites. In addition to handing out waste bags during team check-in, there will be wastebaskets located throughout the Athletes' Village to maintain the park's cleanliness. Let's all work together to keep Busse Woods (Ned Brown Preserve) clean and green.
Medical Services: Medical services and first aid will be available on site. If you're in need of medical attention, please report to the medical tent for immediate assistance.
Schedule
SCHEDULE
For the 2023 Race Schedule, click here.
For the Race Structure & Points System, click here.
Industry Cup Races: To qualify for a Cup race, at least 70% of the crew must be part of the same company or industry.
Live Results
Get live race results and progressions on race day using your phone. Visit www.gwnresults.com.
Race Marshaling
Marshaling for races will begin promptly half an hour before the first race of the day. Teams must be in the Marshalling area 30 minutes before their scheduled race throughout the day.

Race Day Check-In
Every Team Captain must check-in their team at Race Headquarters on race day. Registration will be open from 7:00AM to 9:00AM. All waivers must be completed prior to check-in. Please visit the FAQ section for more information on how to check in on race day.
For a speedy check-in, ensure that all waivers for your team are completed. The electronic waiver deadline is 11:59AM EST on Wednesday, July 26th. Online access to waivers will be restricted after the deadline, after which only paper copies will be accepted on Saturday morning.
Team Captain's Meeting
There will be a Team Captain's meeting on Saturday morning, at Race Official Headquarters tent to discuss race day rules and answer any participants' questions at 7:30AM, 1 hour prior to the first race.
Awards
AWARDS
Industry Cup: First place teams will receive a trophy and gold medals.
Consolation Finals: First-place teams will receive a trophy and gold medals.
Grand Finals: Third and second place teams will receive bronze and silver medals, respectively. First place teams will receive a trophy and gold medals.
Awards Ceremonies
Ceremonies will take place after each Industry Cup, Consolation Race, and Grand Final Race. Staff will gather the gold medal-winning team as they come off the water. They will be escorted directly to the stage. Bronze and silver medal-winning teams will receive their medals in the dock area.
The A Division Grand Final for Mixed, Women's, and Open ceremonies will take place after all races are completed on Saturday.
Entertainment
ENTERTAINMENT
Stay tuned for entertainment and on-site activities for 2023.
Vendors
Parking
PARKING
Free parking will be available within close proximity of your Athletes' Village site. Please follow directional signage to the parking area.
Volunteer
VOLUNTEER
Looking to have some fun on the docks? Be the first to know the official results? GWN is always looking for fantastic volunteers. If you would like to volunteer, we can promise some food, drinks, and a really cool shirt, so please complete this Volunteer Form to join our team! To get more info or ask any questions, feel free to send us an email at volunteers@gwnevents.com.
Event Map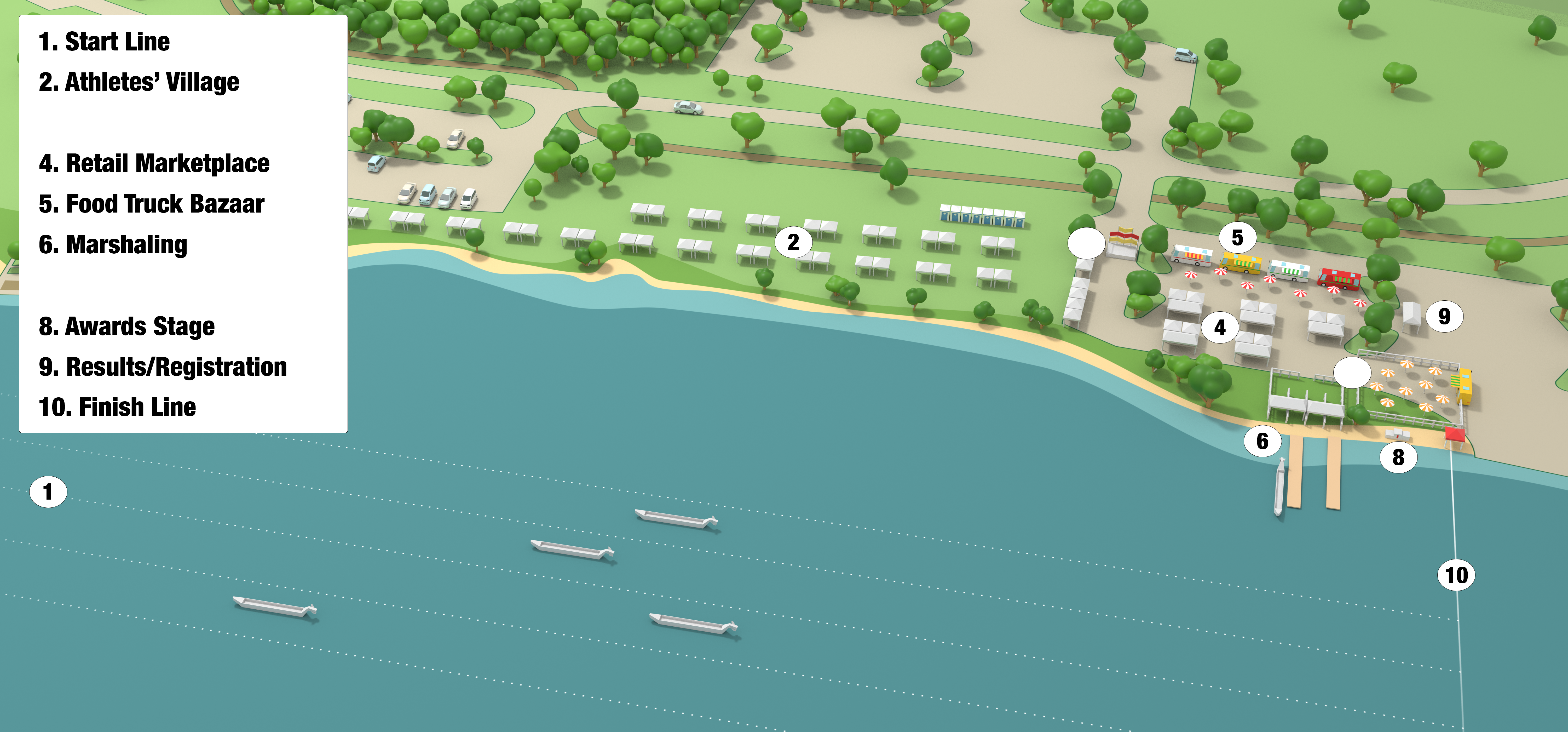 charitable partner

The Chicago International Dragon Boat Festival is proud to support Adaptive Adventures.
Since 1999, Adaptive Adventures has provided outdoor sports to improve the quality of life for children, adults, and veterans with physical disabilities and their families. Adaptive Adventures dragon boat racing team, Team Blue, has expanded to include teams in Arizona, Colorado, Florida, Illinois, Montana, and Puerto Rico. Adaptive Adventures establishes sustainable programs in unserved areas, educates the community on greater inclusion and accessibility, and innovates new equipment to reduce barriers. Adaptive Adventures participants experience greater independence, freedom, joy, exhilaration, and camaraderie in the great outdoors.