EVENT Details
Hover over each tab for more details
Pricing
PRICING
Category

# of Races

Before Jan 1st

Before July 1st

After July 1st

Mixed / Women's / Open / ACP / BCP / Paradragons

(w/o practice, 3 x 500m)

3

$1045

$1,145

$1,345

Mixed / Women's / Open / ACP / BCP / Paradragons (Out-of-Town*)

(3 x 500m)

3

$845

$945

$1,145

Additional Practice Session

$125/session
*Out-of-Town: Applies to out-of-state and out-of-country teams.
Prices are in USD and do not include applicable tax (7% sales tax).
Payment Methods: We accept all major credit cards, or check.
Paying by check: You will receive a discount of $25 USD. This discount will be automatically applied during the registration process.
For more information (i.e. refund policy, multi-event discount, etc), please visit our FAQ page.
To ensure races run smoothly, smaller divisions may be combined in heats but will race independently of each other.
Registration Add-Ons
Each team registered at the festival will get a 20 x 20 team site (footprint, not tent rental) within the Athletes' Village. Teams have the option to bring their own tent or rent one from GWN. In addition to tents, chairs and tables are also available. For more information on rentals, please refer to the "Athletes' Village" tab below. Teams may also order additional practices, for more information please refer to the "Practice" tab below.
Location
LOCATION
Location: The event will take place at Haulover Park. The address is 10800 Collins Ave, Miami Beach, FL 33154, United States.

Site Map: The 2024 map will be posted 1 week before the event.
Park Rules: We're committed to creating a safe, comfortable, and enjoyable experience for participants and spectators. Before heading out to the races, there are some things you should know:
BBQs and other cooking equipment are not permitted on-site.
Alcoholic beverages are not permitted at the venue.
Pets are not permitted on-site.
Teams are responsible for picking up their waste within their team sites. In addition to handing out waste bags during team check-in, there will be wastebaskets located throughout the Athletes' Village to maintain the venue's cleanliness. Let's all work together to keep the site clean and green.
Schedule
SCHEDULE
The 2024 race schedule will be posted Monday October 21st.
To ensure races run smoothly, smaller divisions may be combined in heats, but will race independently of each other.
Live Results
Get live race results and progressions on race day using your phone. Visit gwndragonboat.com/results
Race Marshaling
Marshaling for races will begin promptly half an hour before the first race of the day. Teams must be in the Marshalling area 30 minutes before their scheduled race throughout the day.
Race Day Check-In
Every Team Captain must check-in their team at Race Headquarters on race day. Registration will be open at approximately 7:00 am. All waivers must be completed prior to check-in. Please visit the FAQ section for more information on how to check in on race day.
For a speedy check-in, ensure that all waivers for your team are completed. The electronic waiver deadline is 11:59AM EST on Wednesday, October 23rd. Online access to waivers will be restricted after the deadline, after which only paper copies will be accepted on Saturday morning.
Team Captain's Meeting
There will be a Team Captain's meeting on Saturday morning to discuss race day rules and answer any participants' questions, approximately 1 hour before the first race.
Awards
AWARDS
Consolation Division Finals: First-place teams will receive a trophy and gold medals.
Grand Finals: Third and second-place teams will receive bronze and silver medals, respectively. First-place teams will receive a trophy and gold medals.
Awards Ceremonies
Ceremonies will take place after each Consolation Race, and Grand Final Race. Volunteers will gather the gold medal-winning team as they come off the water. They will be escorted directly to the stage. Bronze and silver medal-winning teams will receive their medals in the dock area.
Entertainment
Stay tuned for entertainment and on-site activities for 2024.
Vendors
Parking
PARKING
Ample on-site parking is available right beside the event site. It costs $7 per day to park.
Please use the app called pay by phone app to complete payment for parking by using the Location #46258.
Volunteer
VOLUNTEER
Looking to have some fun on the docks? GWN is always looking for fantastic volunteers.
As a volunteer, you'll have the opportunity to be a part of the exciting and fast-paced action that is dragon boat racing. You'll also get to experience the energy and excitement of the festival event atmosphere and be a part of a vibrant community of dragon boat enthusiasts. Volunteers will be needed to help with various tasks in ensuring the safety and smooth operations of the event through the various outlined tasks:

Boat Marshalls: Will be on the dock assisting paddlers with getting in and out of the boats. This position should be filled by people who are comfortable around the water.
Results Runners: Will be posting the results from the Timing Officials at the Registration Headquarters. This position requires neat handwriting.
Team Marshalls: Will assist the Marshalling Manager in ensuring that all teams are ready to load into boats at the correct time to maintain smooth running of the races.
Crowd Control: Will ensure one-way flow traffic from the Marshalling Area after boats are unloaded.
If you would like to volunteer, we can promise some food, drinks, a really cool shirt, and community service hours (if applicable) so please complete this Volunteer Form to join our team! To get more info or ask any questions, feel free to send us an email at volunteers@gwnevents.com.
event partner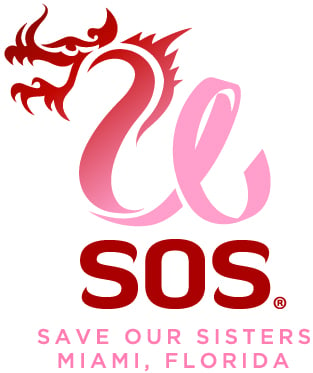 Save Our Sisters (SOS) is a non-profit organization, and South Florida's first Breast Cancer Survivor Dragon Boat Racing team. We are a survivor group whose focus is on living, rather than on the disease that brought us together. Team SOS members are from all walks of life, ranging in age from 30 to 70 with varied interests and fitness levels. SOS offers an active, health-giving, life-affirming opportunity for breast cancer survivors.
For more information, visit https://teamsosmiami.org.